Jamia HIGHLIGHTS: Firing incident has shook our faith in police, says V-C Najma Akhtar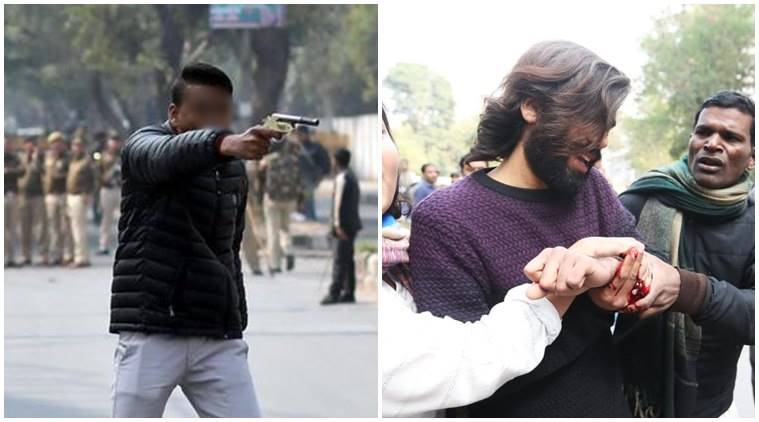 The assailant's face has been blurred as he is a juvenile. (Reuters)
Protest over the firing incident outside Jamia Millia Islamia has ended after nearly seven hours, varsity officials said. A student from Jamia Millia Islamia was injured after a gun-wielding man opened fire during a protest against the Citizenship (Amendment) Act (CAA) in the city's Jamia area on Thursday. The 25-year-old, who was shot in the hand, has been taken to the AIIMS Trauma Centre. Protests intensified in the area following the attack with hundreds of agitated people gathering near the university, breaking barricades and clashing with police personnel
In a video, the man brandishing the gun can be heard saying, "Yeh lo azaadi…Hindustan zindabad…Delhi Police zindabad." Delhi Police personnel were present at the spot when the shooting took place. The man has been detained.
The injured student has been identified as Shadab Farooq. Hailing from Jammu and Kashmir, the 25-year-old is studying mass communication from the varsity. The students of Jamia were to hold a march to Rajghat on the 72nd death anniversary of Mahatma Gandhi. Union Home Minister Amit Shah has said the government will not tolerate such incidents and assured that the culprit will not be spared. After Shah's tweet, Delhi Chief Minister Arvind Kejriwal urged the home minister to ensure law and order in the national capital.
The assailant's name has been removed and his picture blurred as he is a juvenile 
Massive protests in Jamia after a student was injured by an armed man. Follow HIGHLIGHTS.
AAP MP Sanjay Singh called it a "conspiracy" by Home Minister Amit Shah to postpone the Delhi Assembly elections scheduled for February 8.
"Home Minister Amit Shah wants to disturb the environment of Delhi. First, they made their leaders give instigating speeches. BJP can see defeat in Delhi Elections, this conspiracy was hatched out of that fear. Home Minister is conspiring to postpone polls," he said.
"It was primarily a women's led protest against CAA/NRC. Men were there to protect the women. Suddenly, we heard a man shouting ahead of us. He was saying 'you want azadi, here take azadi' and then opened fire. The police was mute witness to this," says an eyewitness.
The shooting comes days after Union Minister Anurag Thakur at a BJP rally encouraged those present in the crowd to chant 'Goli maro saalon ko.' Thakur, addressing an election rally Monday, repeatedly chanted "Desh ke gaddaron ko" and had people responding with "goli maaro saalon ko". It roughly translates to "What should be done with traitors of the country? Shoot them". The Election Commission has imposed a further 72-hour ban on Thakur
Reacting on the incident, CPI general secretary D Raja it was a "direct result" of incretionary comments made by BJP leaders while campaigning for the Delhi Assembly polls. Raja told PTI that it was unfortunate that such an incident had happened on the death anniversary of Mahatma Gandhi. "Jamia firing incident a direct result of provocative statements made by BJP leaders during campaigning in Delhi. BJP leader Anurag Thakur should be arrested for his comments urging crowds to raise slogan of shoot the traitors," Raja said.
AAP MLA and Okhla candidate Amanatullah Khan said, "On this day, Gandhi was shot by Godse in 1948, today Gandhiwadis are being shot. Anurag Thakur had said 'goli maaro saalo ko', his followers are doing so."
On December 15, Delhi Police had stormed the Jamia campus injuring hundreds of students. Four DTC buses, 100 private vehicles, and 10 police bikes were damaged after the protest against the citizenship law turned violent.
Earlier this week, a 50-year-old man had allegedly threatened protesters at Shaheen Bagh with a pistol. The video shows the man getting on stage with his pistol, but is overpowered by other men at the site.